The respondent is a 27-year-old Tunisian man who was pushed back with a 26-year-old and a 33-year-old Tunisian men from North Macedonia to Greece on the night of Saturday 23rd April to Sunday April 24th 2022, between 5 and 6 AM.
The respondent was pushed back a total of three times over two days from Northern Macedonia to Greece: the first on Friday 22 April, the second on Saturday 23 April and on Sunday 24 April. This report details the third and most recent time he was pushed back, which took place on April 24th 2022.
With regard to the last pushback, the respondent stated that he left Idomeni, Greece at 3 PM on Saturday towards Gevgelija in North Macedonia on foot. After crossing the border close to the railway, he reported that they first passed the first village after 25 kilometres where they rested and ate a little bit. Then, after a second walk, they were caught by officers at some time between 2 and 5 AM. The respondent reported that he was very close to the second village. He states that they had travelled a total of 70 kilometres from the moment they crossed the border.
According to the respondent, they started to run at the sight of a group of 5-6 officers, before the latter caught up with them. 
They were reportedly going to hit them, but the respondent explained that they talked to them and explained that they were fleeing Greece because they did not feel safe there and sought asylum. The officers, then, reportedly, calmed down and handcuffed the three men with two handcuffs (see photos taken by the respondent below).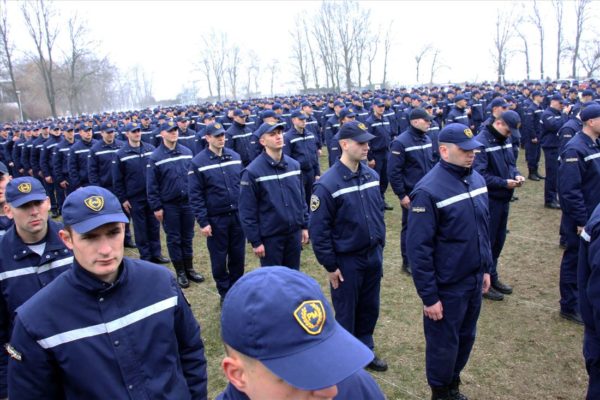 According to the respondent, they were Macedonian police officers because of the Macedonian flag on their uniforms and also because they spoke Macedonian among themselves.
They then had to walk for what was reported to be approximately 15 minutes in handcuffs until they reached a main road where a van was waiting for them. It is unclear what this van specifically looked like. The respondent stated that he fell down more than once during the walk and asked to have the handcuffs removed as it prevented him from walking properly. But the officers refused, explaining that they had to keep them on until the road. Once there, the transit group was taken to the back of the van while two police officers got into the front, including the driver. After a reported half-hour drive, they arrived at what could have been the Vinojug Temporary Transit Centre (TTC), near the border. This centre was mentioned in BVMN's February 2022 Monthly Report and seems to be a common place people-on-the-move are taken to before they are pushed back to Greece.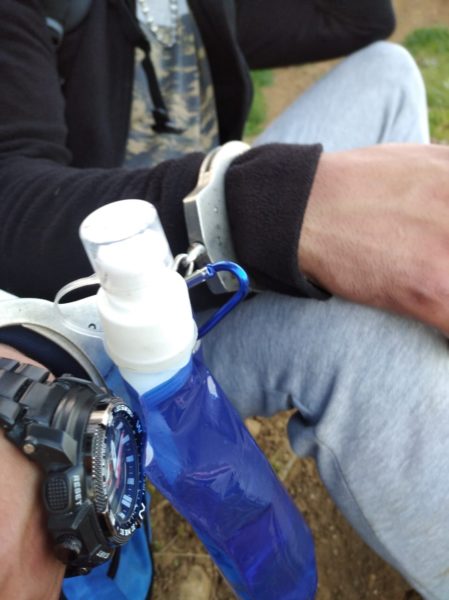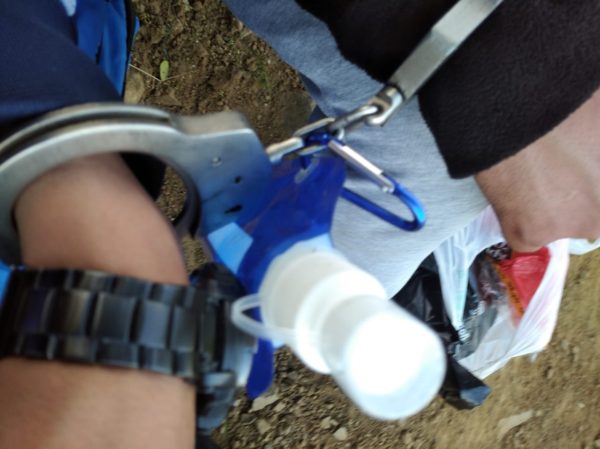 The respondent stated that he was exhausted and went directly to a wooden board outside to lie down. According to him, the camp was very small, and was surrounded by a fence. There were no signs, words or markings on the walls and tent, very similar to a detention camp as he reported. They did not see anyone else except for 10 camp staff during registration. The respondent explained that they were very tired and that, although they asked the officers for food and water, they did not get any.
After what was reported to be a half hour wait during which he lay down on a wooden board outside, he was taken to be fingerprinted, given his personal data (name, surname and nationality), and his face was photographed. He stated that no translator was present. 
During the registration process, the respondent said that he had complained to the officers that he was a minor, and that they could not turn him away. But they reportedly told him that they did not care. According to the respondent, he and his two companions tried to talk to a woman in the camp who was wearing a "Red Cross" T-shirt. But the other officers prevented them from doing this, explaining that she was no longer working in the camp.
The respondent explained that having already requested asylum during these two previous pushbacks, and being tired of their same non-reaction and ignorance of his request, he asked them to see their manager. He was able to see the person in charge and explained that he wished to be granted asylum in North Macedonia. The official told him to wait a few minutes, and that he would come back, but he never came back. 
After registration, the three men were reportedly taken away by the same two police officers who had taken them to the camp, in a reported blue Citroën car with no other markings or signs on it. 
The respondent does not remember what time they left the camp, nor does he remember what time they went through the gates. 
According to the respondent, once they arrived at the gates, the officers were once again about to hit them. But once again, they explained that they were fleeing Greece because they are minors and they did not feel safe there. The police officers then opened the doors of the vehicle and the transit group were once again pushed back to Greece. 
Afterwards, they reportedly had to spend one night outside before they could take a bus to the nearest Greek village (most probably Polykastro).